Ontario's first Micro-FIT payment.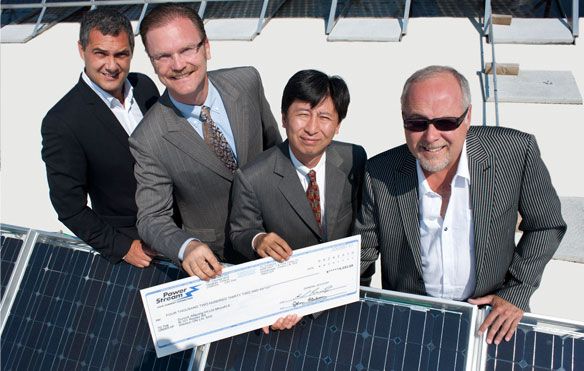 The solar option.
Increased power generation compared to a conventional single-sided HIT panel at any angle and any direction. In vertical installations that faced south the power generation increased by 34%. The back side of the panel generates electricity (Kwh) from ambient light that has passed through the panel or is reflected off surrounding surfaces, ensuring the productive & optimal use of energy resources, while limiting environmental impact.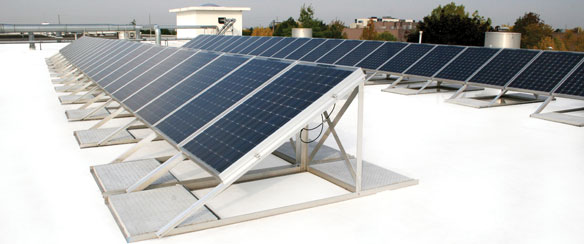 Canada's First Rooftop Bifacial Solar PV Installation
SANYO Canada Inc, a "leading company for energy and environment," together with AVACOS Solar Energy, a Canadian solar photovoltaic installation and project integration company, unveil the first Canadian photovoltaic system combining SANYO's HIT® (Heterojuncotin with Intrinsic Thin-layer) Double bifacial solar PV modules and DuROCK TIOCOAT™ reflective roof membrane at DuROCK Alfacing International Ltd.'s headquarters in Woodbridge.
In managing the project, AVACOS matched the complimenting technologies, which result in additional cost-saving and environmental benefits.
SANYO HIT® Double PV modules generate power from both sides, resulting in up to 30% higher energy output than standard single-sided PV modules, making them ideal for carports, canopies and porch coverings.
DuROCK TIOCOAT™ is a high-strength white elastomeric urethane roof coating that provides 89% solar radiation reflectivity and weather resistance, reducing the energy usage required for the building compared to traditional roof coverings.
"DuROCK is proud to work with such industry leaders as SANYO and AVACOS on a project combining our technologies and expertise for the benefit of the environment," said Gary Campacci, President of DuROCK. "The installation of SANYO modules on our existing white reflective roof will ensure a maximum level of performance and cost effectiveness."
In the 10kW grid-tied array, the SANYO bifacial PV modules will provide renewable energy revenue for DuROCK, while the TIOCOAT™ membrane will reduce the cooling costs of the building. The combination of these technologies results in increased PV module output from the cooling effect and the increased exposure to solar radiation at the back of the modules due to the high reflectivity of TIOCOAT™ roof membrane.
"The merging of these two technologies is a great example of the potential that exists within this (solar) industry," said Sandro Costa, President of AVACOS Solar. "Maximizing the power generation possible from the sun is not only a win-win situation for the client, but for the environment and society as a whole."
Each company hopes to see similar future projects combining these complementary technologies for improved cost-savings and environmental benefit.
top